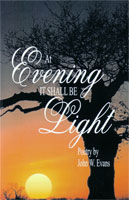 Click Image to Enlarge
John's book is published by Lifevest Publishing and sells for $12.95 plus $2.50 shipping & Handling. However, if purchased from John, the shipping and handling fees are included in the $12.95 base price. John's book is an 81/2" X 11" paperback perfect bound edition
John W Evans, of Muskogee, OK is a retired ordained minister, presently connected with the First Baptist Church (SB) of Jacksonville, Florida where he has served for some years as nursing home director, Sunday School teacher, prison ministry preacher, and choir member. Since 1998 John has also served as a columnist for the Fellowship of Christian Poets, writing a monthly column called, "In The Spotlight" which features a critique of member's poetry and other general reviews. He was graciously awarded their Poem of the Month award for six different poems and selected as the "Poet of the Year for 200.
John is the author of a 170 page poetry collection called, "At Evening It Shall Be Light" which was published in 2004. His book also contains 10 additional pages of text related to Christ and Christmas, Bible doctrine, His mother and wife, Joyce's First Baptist Church Blessings, prayer praise and the tongue.
For further information on how to purchase the quality poetry collection, please e-mail John directly at joevans@comcast.net.