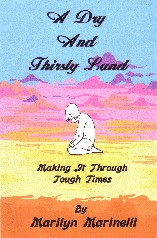 Click Image to Enlarge
The 6" x 9" Paperback book retails for $9.95 plus $1.75 s/h.
Please make your check payable to Marilyn Marinelli
and mail to:
PO Box 831413
Ocala, FL 34483
A Synopsis
Based upon true life experiences

Written from a woman's perspective

Designed in an easy to read "How To" format

The perfect gift for those who are going through troubled times

A Dry And Thirsty Land is a collection of teachings on "How To Make It Through." They are the result of true-life experiences and the quest for God's direction and deliverance. The eBook is a presentation that is full of scripture and questions and answers that relate to getting through tough times. It is very anointed and biblically based.
The author has compiled thirteen chapters and a powerful conclusion on such subjects as; What Happened To Your Once Upon A Time?; When Nobody Cares, God Does; Child of God, Why Do You Fear?; Restoring Your Peace; God Is Speaking, Are You Listening?; In The Fullness of Time and more.
This is a "Must Read" for anyone who is going through troubled times. It was written from a woman's perspective but speaks to men as well.