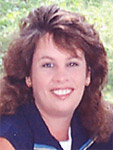 About the Author: Lisa Schielein
Lisa Schielein was born in Peoria Heights, Illinois on July 5th, 1968. She has served in her community for over 15 years. Lisa worked for 11 years in a local seafood market and has worked for the last five years in retail service.
Lisa has always had a very deep love for Jesus Christ and always reaches out to help those in need. She has served as a Sunday school teacher and has served as a camp counselor for children attending church camp.
To reach out and give hope and love to children, adults, and the elderly is her priority.
She encourages people to seek the Faith, Hope, and Unconditional Love that can only be found in Jesus! Lisa encourages people to put themselves into hands of Jesus Christ. Lisa's love for Jesus is everlasting!
Lisa has been writing poetry for over 20 years. This is truly a gift from God. The words in her poetry are not of her thought but written down as they consume her thought. Her poems are written as a source of inspiration to remind us to seek "First" the Kingdom of God. Lisa published a book in November of 2002 called "In the Hands of Jesus." This book is available for sale through Trafford Publishing 1-888-232-4444.
Lisa is married to Garry Alan Schielein of Peoria, Illinois (construction worker) and they have one, 15 year old son, Vernon Glen Schielein. They live in Peoria, Illinois. Their home church is Grace Presbyterian Church in Peoria.