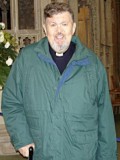 About the Author:
Fr. Ewan Alexander MacPherson

Name: Fr. Ewan Alexander MacPherson
Address: 20 Tuddington Gardens, Wells, Somerset. BA5 2EJ.
D. of birth: 10th. July 1943, Tiverton, Devon, England.
Education: After pre-prep and prep schools, Shrewsbury School, Shrewsbury, U.K.
Works: 7 years with UK Ministry of Health concluding with 18 months in the Victoria General Hospital, Halifax, Nova Scotia, Canada.
University: University of Toronto, University College, B.A. Hons. English Literature; Wycliffe College, M. Div.
Ordination: 1978 ordained Deacon at St. Paul's Bloor Street, Toronto; 1979 ordained Priest at St. James Cathedral, Toronto.
Post-ordination: Parish work in Toronto Diocese followed, after my father's death, by 20 years as a Parish Priest in Bath and Wells Diocese, (S.W. England).
Retired: 2006, having had a stroke. I now live in Wells, with my wife and family, celebrate the Eucharist mid-week at the Chapel of Glastonbury, attend the Cathedral Men's Breakfast and Retired Clergy Study Group, write poetry, read, go bird watching and support the Wells Rugby Football team. We worship at Wells Cathedral and support the Mid-Somerset Orchestra.
With best wishes and many thanks,
(Fr.) Ewan MacPherson.