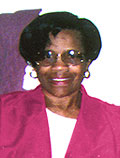 I am a mother of two sons and a grandmother of two granddaughters and one grandson. My career was spent as an early childhood educator. I worked in the headstart system in Chicago and in Alabama. I am now a widow, retired and living in Alabama.
I began writing poetry as a hobby around 1988. I entered several contests and received basic recognition. During the following years I took a correspondence course from The Institute of Children's Literature, with the intention of writing children's stories. This was followed by the opportunity to do some Sunday School Quarterlies for Union Gospel Press, Children's department. I also write devotions and find this an ideal way to witness for the Lord.
In 1998, I began writing Christian poetry. I found this to be an ideal method of self-expression. It is a marvelous way to communicate the love and grace of God. In my poetry I am able to express how the Lord works in my life. I write of His faithfulness to me. The Holy Spirit is at work as I pen my thoughts and search for words to share my intimacy with the Almighty. The power of God's love is declared in my poems and it draws me closer to Him each day.
My hope is that my poetry will be a witnessing tool for others. I pray that the readers of these poems will be inspired, encouraged, strengthened and comforted. I find my anchor in the reading of the Psalms. As the writers passionately pour out their hearts, it is felt by those who read them. I identify with many of the Psalm writers. I find renewed hope and great joy from what was expressed so long ago. It is my desire that as I pour out my passion to God from the depth of my soul that someone's day will be brightened.
I am a student of the Word and a teacher of the Word. I serve in a Baptist church. I teach an adult class and am a substitute teacher for a youth group. I am also an instructor for the National Baptist Congress of Christian Education. I also serve the missionary department and the deaconess board in the local church. I plan to spend my retired years serving God in His kingdom work.