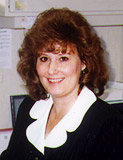 About the Author: Jill Lemming
Jill Lemming is a housewife and mother of three, a son, Nathan, 20..and two step daughters, Megan, 14 and Gail, 12. She works part time in the church office and teaches 1st grade Sunday School. Her favorite hobby is writing Christian Poetry and sharing them with others.
Jill's husband Richard, is her best friend and a strong supporter of what she does. God is first and foremost in her life and she has committed all her works to him.
Jill is the 1999 Poet of the Year, representing the Fellowship of Christian Poets through outstanding Christian poetry that ministers to the needs of others. We are proud to profile her here and look forward to her leadership in our "Book Review" articles.
expressions@erinet.com