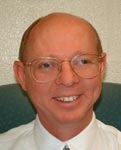 About the Author: Kevin Hartnett
Kevin was born in St. Louis, Missouri, but has lived most of his life in Pennsylvania and Maryland. He is married, the father of two home-schooled children, and a devoted Christian. He came to Christ in 1974 as an undergraduate student where he studied physics, astronomy, and music. Married in Baltimore in 1980, Kevin and his wife Maureen moved to the Washington DC suburbs in 1981. At that time, Kevin took employment at the NASA Goddard Space Flight Center where he has held various positions of increasing responsibility in spacecraft operations to the present day. He now works for NASA as the Deputy Science Operations Manager on the Hubble Space Telescope Project. Kevin and Maureen have been very active since 1981 in what is now known as Covenant Life Church (CLC), the founding church in the league of churches planted and overseen by Sovereign Grace Ministries headquartered in Gaithersburg, Maryland. They have been small group leaders for many of these years, but have also led the Married Couples' Activities Ministry Team and served as Pastoral Deacons. Kevin has participated regularly in the Drama Ministry as a singer and actor, and has devoted many volunteer hours to teaching astronomy both inside and outside the church. He also enjoys photography and has taken a number of award-winning astrophotographs.
Kevin has written occasional poems for family member and friends most of his adult life, but became more serious in poetry as an avenue of ministry in the late 1990's. He seeks to serve his church and others with God-honoring poetry and hymns that can be used during Sunday worship, communion, or teaching times. He has also combined his poetry and photography into gift cards and color prints, many of which he and his family donate to their church for sale in the church bookstore, with proceeds directed toward church outreach.
One of his favorite sections of scripture is 2 Tim. 2:20-22 (ESV)
Now in a great house there are not only vessels of gold and silver but also of wood and clay, some for honorable use, some for dishonorable. [21] Therefore, if anyone cleanses himself from what is dishonorable, he will be a vessel for honorable use, set apart as holy, useful to the master of the house, ready for every good work. [22] So flee youthful passions and pursue righteousness, faith, love, and peace, along with those who call on the Lord from a pure heart.
His prayer to God is that he might be found consecrated, useful, and ready to serve his Savior in the proclamation of the glorious gospel and the building of the Church.