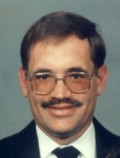 About the Author:
Jerry Hoffman
Jerry Hoffman was born on May 18, 1951 in Williamsport, Pennsylvania where he currently resides. Except for a few years of service in the US Navy, Jerry has always called the picturesque Susquehanna Valley his home. When he is not carrying mail for the Postal Service, Jerry handles the operation and upkeep of Cross Way Publications and, whenever opportunities arise, serves as a lay minister in the Williamsport area.
Jerry first began writing poetry in 1970 while serving aboard the USS Mitscher, a guided missile destroyer that was based in Norfolk, Virginia. The Mitscher was decommissioned and sold for scrap metal in 1980 but the inspiration that first touched a 19 year old fireman in the forward boiler room has continued to this day. A learned author once said a writer should find his or her sphere of interest and orbit near-by. Jerry's sphere of desire is to give praise and honor to his Lord and Savior, Jesus Christ, so most of his poetry flows towards the throne of God.
Thousands of verses have flowed from heart to pen to the printed page since he began writing. Some have found their way to the backs of bulletins produced by Cathedral Press, others found a niche in newspapers and magazines both locally and in places as far away as South Africa. Jerry also has three poetry collections in print, Poetry From the Psalms, Poetry From the Parables, and The Fruit of the Spirit.
In 1994 Jerry was introduced to the World Wide Web and felt a pressing desire to form a place for Christian poets to write and share their words of praise. What began as a Bulletin Board Service with the poetry of three Christian writers has grown to a community of over one thousand Christian poets from all corners of the globe.
Cross Way Publications (The Cross is the Way that leads home) resides at christianpoetry.org and/or crosswaypublications.com on the web and welcomes all poets who desire to lift words of praise to the Lord.