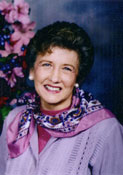 About the Author: Fay K. M iller
I have loved the Lord virtually all my life, testifying and being baptized at age 7. I have also penned rhymed verse since a very young age once being "Poet" of my grade school newspaper. There is a connection, which I learned only in the last few years. It is a gift from God and is to be used for His blessing. Abiding by that brings joy, affirmation and ministry.
I am a retired educator with teaching and library management career, Mother of three daughters, Grandmother of seven and a Writer. Writing has long been part of my life as secretary for professional groups, writing for a Library Journal, editor of library newsletters, secretary of a Christian school board, secretary for my Church Council, church news writer, Publications Team Leader, and Editor of our church newsletter when not with my "Grands," tending and photographing my rose garden and cactus greenhouse, and getting away to my trailer in the woods photographing wildlife and wild flowers. Thus, I am surrounded by loving inspiration!
I love writing poetry. It is my passion. I have long written verse for events, friends, family and holidays. I have created holiday greeting cards in calligraphy design, now in computer art, and with my photography and verse. Writing has become a personal quest, growing in skill, through an association with Oregon Christian Writers and my critique group. I write about all aspects of my life but mainly to share my Savior's love.