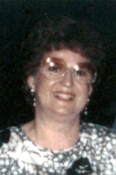 About the Author: Barbara Ann Dudley
I am a born again, washed in the blood of JESUS CHRIST, child of GOD, joint-heir with CHRIST, and a member of The Church of THE LIVING GOD, and I believe in The Doctrine of CHRIST.
I am married and live with my husband and my youngest sister in El Dorado, Arkansas. I was born in Shreveport, Louisiana, and graduated from Fair Park High School, in 1958. I am trained in the medical field and worked as an EEG, EKG, and CRTT Technician, [brain, heart, and lung tests and treatments] in Shreveport for 13 years until I moved to El Dorado, in 1975.
I graduated from Southern Arkansas University, in 1983, with a Bachelor of Science [major in Psychology and minor in Fine Arts]. I attended graduate studies in Social Work and Counseling. I worked in the mental health field for 3 years. I had open-heart surgery, in Shreveport, in 1987. I have been retired since then and attending Bible studies and writing poetry and painting acrylic Still Lifes and pastel Portraits. I've had my own art exhibitions in Arkansas and Louisiana, and I've won awards in juried exhibitions.
THE HOLY SPIRIT has given me the gifts of teacher, helps, poetry and painting. All gifts that THE HOLY SPIRIT gives GOD'S children are to be shared with all. "But the manifestation of THE SPIRIT is given to every man to profit withal." [1 Cor. 12:7] And every child of GOD is given a gift or gifts by THE HOLY SPIRIT. "But all these worketh that ONE AND THE SELFSAME SPIRIT, dividing to every man severally as He will." [1 Cor. 12:11] The question we will answer in our lives is the question that JESUS asked His disciples, "But whom say ye that I am?" [Matt. 16:15]
I, like Simon Peter, answer, "Thou art THE CHRIST, THE SON OF THE LIVING GOD." [Matt. 16:16] And, THE WAY, THE TRUTH, AND THE LIFE. [John 14:6] My greatest joy is studying GOD'S Word, His Holy Scriptures, which are the inspiration of my Biblical poetry. When THE HOLY SPIRIT is leading and guiding me, my thoughts and words flow, effortlessly. I am blessed to be one of GOD'S vessels to pen His poems to share with others.
Barbara Ann Dudley
barbarafletcher@arkansas.net