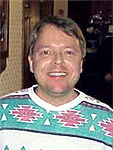 About the Author: Timothy Dienes
I enjoy the endless search for the perfect choice of words to express myself. My phonetic wordplay borders on the subconscious. Born in Ohio, I moved to North Carolina in the 8th grade, and soon thereafter became better known for my mathematical inclination. Majored in math at UNC-Chapel Hill. After several years of work, I managed to complete a Masters degree at UNC-Charlotte in Applied Statistics. Since then, nobody seems to know what direction I'll end up going. I joined Mensa and enjoy intelligent conversation. I am single, never married, and leave that question in His capable hands. My background is Lutheran, but I have a mind of my own, which belongs to Christ, and I endeavor to let it be His.
I do have other poetry. From an artistic point of view, it may be worth sharing, since it documents the darker, sadder, more depressed side of my experience, and I had seriously considered posting it for its value. Actors, poets, and artists of all kinds realize the tremendous power of their media to carry themselves and others away. Just as it can he uplifting to others to share inspiration, it can be devastating and irresponsible to cast aside the discernment of personal circumstances, and the editorial responsibility of a morally responsible writer. Whatever we choose to share may be replicated beyond our wildest imaginings. I will "Magnify the Lord" as Psalm 34 suggests.