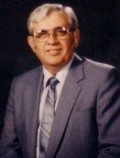 About the Author:
William Oren Adams

I was born and raised on a primitive farm in West Tennessee. There were very few hills in West Tennessee but there were a lot of "ridge runners". I was one of them. I was the third son of my parents and rather backward. I was intelligent but didn't know it. I am now a member of Mensa, the high I.Q. society.

I started to school at age six and attended the first four grades in a one-room schoolhouse in which one teacher taught all eight grades. It was called Adams Chapel School. Adams--I've heard that name somewhere!

When I got to the fifth grade, we changed schools. We didn't move. We just changed schools. Adams Chapel was on the way out and we left. We moved to a big school. I knew it was big because we had two teachers in that school with only four grades each!

When I began high school, I really got fancy. I went to town to school. I thought it was a very large school. When I graduated we had all of forty-eight students in my graduating class. My, my!

I was always considered to be a musical person and I suppose I was. I learned to read music on my own and wrote a few songs while in high school. Then I really got fancy. I joined a Gospel quartet and sang on radio stations in Kentucky, North Carolina, and Tennessee. I was really uptown!

The Korean War came along and I got drafted. I wound up on the front lines in Korea with the 40th infantry division. It was a strange thing: I was actually in front of the front lines a good bit of the time but the only enemy soldiers I saw were a few dead ones. War was definitely not my game. I do know, however, why the North Koreans and Chinese didn't win the war. They shot straight at me and missed! If you can't shoot better than that, you surely can't win a war!

After returning home, I went to college and, to make a very long story short, I wound up with a Bachelor of Science in music and psychology. I returned to school some time later and earned a Master of Science in Clinical Social Work. When I retired at age 65, I had earned the following credentials: MSSW, LMSW-ACP, CCDS. LCDC. (alphabet soup!) The ignorant little boy had grown up. I still write music, poetry and other stuff. I have a lot of fun that way!

I have a book of poetry, Poems From My Soul", that was published in February 2003 by Publish America, on the web at

www.publishamerica.com. I have another called "Tales From Tennessee, Texas and Elsewhere" and still another called "Bill Sez", a commentary on everything fro A to Z. I have also written, "The Blond headed Pig, The Freckle faced Mule and Friends". The poetry is the only thing that has been published so far.

I am a born again Christian. I am married to a redheaded East Texas lady and we have always been active in our Church.