---


John Marinelli
Co-Founder
I began my journey into the world of poetry while in college as an assignment in a humanities class. I asked the Lord for a poem and have been writing ever since. Many of my poems won awards from poetry groups that no longer exist. I finally gave up on self-recognition and sought to use my gifting to glorify Jesus. My gifting has made a way for me to be a blessing to others and is the essence of "The Fellowship of Christian Poets".
Over the years, I published several poetry books, one for children and another for pastors and church ministries. I authored "The Art of Writing Christian Poetry" and authored a 150 page all Christian Poetry spiral bound book called "Fragile Flower Red". I also produced a 25 poem CD called, "Morning Reign" and another CD called, "The Story of Jesus" which was music and poetry. I have used my poetry in Christmas cards, Special gifts to friends and neighbors, and to area pastors for sermons. One year I placed a 4' X 8' sign in my front yard with a Christmas poem written on it and even shined a light on it at night.
As co-founder with my wife, I look forward to helping others become a blessing through the gift of poetry.
I hope that I will be an inspiration to other poets showing them that you do not need to be recognized in the eyes of man but rather anointed by God to be successful.
---


Marilyn Marinelli
Co-Founder

I never read much poetry. As a young girl I found a beautiful love poem written in a poetry book and thought the poetic expression of love was truly romantic in nature. It wasn't until years later when I met my husband that, through his love of poetry, did I realize that poetry could be so enjoyable. Through the sharing of poems written for the children, the religious types of poems, and presenting me with three books of poems written especially for me, did my understanding and scope of appreciation expand.

Since that time I asked the Lord to help me write poetry. He answered me as I sought Him in prayer. My prayers started to take on poetic form and His answers to me were filled with poetic expressions. God has also surrounded me with others who enjoy and share their gift through our local chapter "The Fellowship of Christian Poets". I now see first hand how God's poetic expression through His people can bless, uplift, encourage and yes, love his people as well as those whose ears hear His words through poetry.

I find myself very blessed through my God, my husband and my friends through the gift of poetic expression. I hope you are blessed by the following poems.
---

Editorial Team Member

John W. Evans was born in Muskogee, Oklahoma, on February 25th, 1928, the fifth child of nine to be born to his parents. He received his public school education in Oklahoma, enlisted in the U.S. Marine Corps in 1946 for two years, graduated from Bob Jones University in 1952 with a BA in English Bible, the year he married his wife, Joyce Runyon, whom he met there at the university. They have four children by this marriage and nine grandchildren.

Mr. Evans also has graduate degrees from Grace Theological Seminary, Winona Lake, Ind. and Indiana University, Bloomington, Ind. He was a public school teacher in Indiana for 33 years and also served concurrently eight congregations as pastor in Indiana and Ohio. Having taught poetry in English classes as a public school teacher, he took up serious poetry writing himself after retiring in 1991. He is currently a co-director of the nursing home ministry of the First Baptist Church of Jacksonville, Florida, and the teacher of a large adult Sunday School class of the church.
---


James Tate
Editorial Team Member
James Tate's articles and poems have appeared in several publications including The Saturday Evening Post, Route 66 Magazine, The Ready Writer, Word Aflame, Pest Control Technology, Teens On Target, Adoration Magazine, Forest Heritage News, Calliope, Brave Hearts, Rainy Day Corner, Ford Lines, the Rotary Gasser and others. He writes monthly poetry columns for the Fellowship of Christian Writers, and the Fellowship of Christian Poets, and bimonthly articles for The Spirit-Led Writer. Frequently he is requested to recite poetry at civic organizations, clubs, and church groups.
Educated at Tulsa University, Oklahoma School of Accountancy, and other colleges, James worked 32 years for Southwestern Bell Telephone Company in Oklahoma, New Jersey, and Missouri, retiring as District Data Systems Manager at General Headquarters, St. Louis. As a chairman in the Tulsa Area Safety Council, he helped pioneer the Auto Safety Inspection System, which later became a state ordinance.
He and his wife, Marie, live in Tulsa, Oklahoma, where he served a number of years as Deacon, Education Director, and Sunday School Teacher with Assemblies of God churches. He and Marie were married in 1948 and were blessed with three children, and are now enjoying five grandchildren, and soon to be eleven great-grandchildren. He enjoys craft work, playing tennis and writing.
---

Larry Howland
Marketing Tips from the Parson's Pen
Larry Howland is a preacher, author and poet who has ministered to a wide variety of audiences, such as churches, civic clubs, motivational meetings and prisons. Through the years, he has also been a guest on numerous television and radio programs, including the 700 Club and the PTL Club.
Larry comes from a dysfunctional family and became a Christian while incarcerated. His message is that men and women must be changed from the inside out in order to have true change take place in their lives.
Mr. Howland always brings a fresh and vibrant approach to both his speaking and his writing. He has experienced the loneliness and frustration that many of us go through, and his inspirational messages bring a glow of hope to all who hear him or read his writings.
He and his wife began The Parson's Pen in 1995, a business dedicated to sharing his writings with a wide audience. His poetry can be found at Christian Discount Books (http://www.christianbook.com), as well as in many gift shops and Christian book stores throughout the United States.
He has a web site, http://www.larryhowland.com, and also sells his poetry on-line at his eBay store, http://www.ebaystores.com/larryhowland.
Larry and his wife, Alyce, who is the inspiration for much of his poetry, live in Elsie, Michigan.
---

Mac Wilkey

Poet's Profile Writer

Mac Wilkey grew up in a very small town in eastern Tennessee with three brothers, a hard-working father, and a loving mother who instilled an appreciation for God's word in each of her boys. He has been writing spiritual and humorous poems and stories since his childhood days and still writes about those experiences and the lessons God has added to his parents' upbringing, as he grows older. Mac's family now includes a devoted wife, three daughters, and three grandchildren who offer him more support and encouragement than he deserves.
The goal of his writing is to pass along some of the insight God has given him. God has chosen to speak in divers manners and through various people throughout the ages--some of the crumbs were left for Mac. To those with an appetite for God's word, his writing can be considered an appetizer or a dessert. An electrical engineer by profession, Mac strives to write with a non-technical style that everyone can appreciate. His published Christian poetry books include God Let Me See the Hedge and An Invitation to the Master's Table as well as two illustrated children's books (For Such As These is the Kingdom and A Giant That's Mean is a Very Bad Thing).
---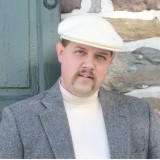 Dave Wright

Editor

I was saved at the age of three at a Word of Life passion play. I grew up in a Christian home and attended a fundamental Baptist church regularly. I was homeschooled from fifth grade through tenth grade. As I progressed into my teenage years, I struggled with rebellion. I was a product of the church and seemed to be a good kid. Underneath however, I was a frustrated youth who dearly wanted to know what the "other side" looked like. My parents, fearing that they were losing control of me, sent me to Bob Jones Academy, the high school attached to Bob Jones University. While at Bob Jones, I realized an important truth. I knew what I believed, but I wasn't sure why I believed it. While at Bob Jones, I began to doubt whether I had truly understood what I had done at age three when I prayed for salvation. Slowly, my life began to turn around and on October 7, 1992 I knelt with my college room-mate and prayed for salvation. It wasn't that I doubted my salvation, but I wanted a day that I could look back to and know for sure that I was born again. I realized that without a true salvation experience, everything I was doing to attain God was a waste of my time. After I assured myself of my salvation, I began to grow. I returned home and attended Twin Valley Bible Academy for my 11th and 12th grade year. I fell back in with some negative friends and my spiritual walk struggled, but the Lord held on to me. Through the prayers of Godly parents and teachers and their efforts in my life, God accomplished his work in my life. I went on to attend one year of Bible College at the Institute of Biblical Studies. This school was a ministry of Friends of Israel Gospel Ministries in New Jersey. I learned the Bible from the perspective of the Bible's Jewish authors and its imagery which was steeped in Judaic tradition. I also spent fifteen days studying the Holy Land in Israel. I have seen all the great sites of the Bible and I haven't read my Bible the same way since. I have walked in Gethsemane. I have stood at Calvary. I have stood in the empty tomb. (emphasis on empty). I have stood on the shores of Galilee where Christ preached from the boat. I have watched a rain storm cause springs in the desert. I have been out on the Sea of Galilee and watched a storm come our way.
As my life has progressed, I have grown only closer to the Lord. Life for me has not been easy, but God has been faithful.
As I have lived my Christian life, I have found the Bible to be relevant and real and applicable to my life. I believe the Bible is the ultimate authority in a Christian's life. (I use the King James Version and prefer it to other translations, but I do not espouse that it is the only true translation of the Bible. I also work out of the New American Standard Bible when I need to compare texts.)
I attend Twin Valley Bible Chapel, an independent, fundamental, non-denominational Bible church. I believe the church is God's source of authority in a believer's life responsible for their growth, edification and discipline in accordance with Scripture.
I have been married to my wife for ten years and presently have one little boy. I have never been divorced.
I consider myself a conservative Christian.
---